DANISH.SUSTAINABLE.EASY
NORTO Wall UP
WALL DECORATIONS CAN ACT AS AN INTERNAL DESIGN ELEMENT. A WOODEN WALL SHOULD CREATE A MOOD AND ATMOSPHERE, THAT WILL BRING NATURE INTO THE ROOM. NORTO WALL UP IS OUR SUSTAINABLE PRODUCT CATEGORY FOR WALL DECORATIONS. BELOW YOU CAN READ MORE ABOUT THE SUSTAINABLE WALL DECORATIONS FROM NORTO.
NORTO WallUP
Sustainable wall decorations
NORTO WallUP is a category of products of various wall decorations, made of residual wood from the wood industry. All wall coverings in this product range have a variety of patterns, surface texture, styles, aesthetics and color combinations. NORTO wall coverings fit any taste and style of interior.

NORTO Bech
NORTO Bech wall coverings are both fire-resistant and durable. NORTO Bech is made of solid, glued-on pine slats. These wooden slats have both milled grooves as well as tongue and grooves at the sides and ends, so they can be used as both ceiling and wall coverings. NORTO Bech is available in an untreated version, one with painted grooves, or fully painted (however, this fully painted product does not yet have a fire-proof certificate).
NORTO Skov 135
NORTO Skov 135 is a durable and raw wall decoration, made of face wooden blocks of different thicknesses and surface structures. It helps to create a three-dimensional effect on the wall. The wooden face blocks are glued to the backing board in a combined pattern with alternating 3 and 4 wooden planks. NORTO Skov 135 is available in a raw wood type in our standard range, but in cooperation with the Building Green fair, we experimented with a black-oiled wall covering version.
NORTO Dahl
NORTO Dahl is a sustainable and rustic wall decoration with square wooden blocks. The wooden blocks vary in thickness, creating a three-dimensional effect on the wall. Visible knots and rings emphasize the rustic and durable expression of this product range. NORTO Dahl is easy and quick to install as a wall decoration in private homes, restaurants, businesses, shops etc.
NORTO Leth
NORTO Leth is a product with many configuration options, as the wooden slats can be mounted in herringbone patterns, alternating horizontally or in any other pattern of your choice. Wooden slats are available in several variants with different thicknesses to create a beautiful three-dimensional effect in the room. This wall covering highlights the natural structure of the wood, as its knots and rings are visible. Design, easy installation and simple aesthetics are the hallmarks of NORTO Leth.
NORTO Friis
NORTO Friis is a sustainable and fire-resistant wall covering. It is characterized by a smooth surface texture with rounded edges. NORTO Friis is available as raw wood or as fully painted pine panels. This product range is ideal for minimalistic interior, where natural aesthetics, Nordic design and simplicity constitute the most important factors.
NORTO Toft
NORTO Toft is a sustainable acoustic panel consisting of wide, solid and glued wooden panels with milled and continuous grooves in a varied pattern. This wall covering can be used as sound-absorbing panel on entire surfaces or as smaller acoustic panels on the wall. The NORTO Toft acoustic panels have been sound tested and achieve a sound reduction up to 90% under the tested conditions (read more on the NORTO Toft product page).
NORTO Munk
This wall cladding is both rustic and natural in its design expression. NORTO Munk is manufactured from unprocessed secondary slats from surplus production in the wood industry. This means that these slats vary in thickness and length. The slats have fines and grooves on the sides and ends, so they can quickly and easily be assembled in length or width. At Building Green, you can see the NORTO Munk wall covering with brown oil treatment, which emphasizes the "expression of recycling".
NORTO Holm
NORTO Holm are sustainable acoustic panels in wood. The acoustic panels can be used as acoustic cladding on walls and other surfaces. The NORTO Holm panels consist of end wood blocks from residual production of stairs. The end wood blocks are mounted on a black recycled felt made of recycled PET plastic from bottles fished up by the world's oceans. This acoustic panel has been sound tested and achieves a sound reduction of up to 90% (under the sound tested conditions, as shown on the product page). The recycled felt is fire approved for B-s1, d0.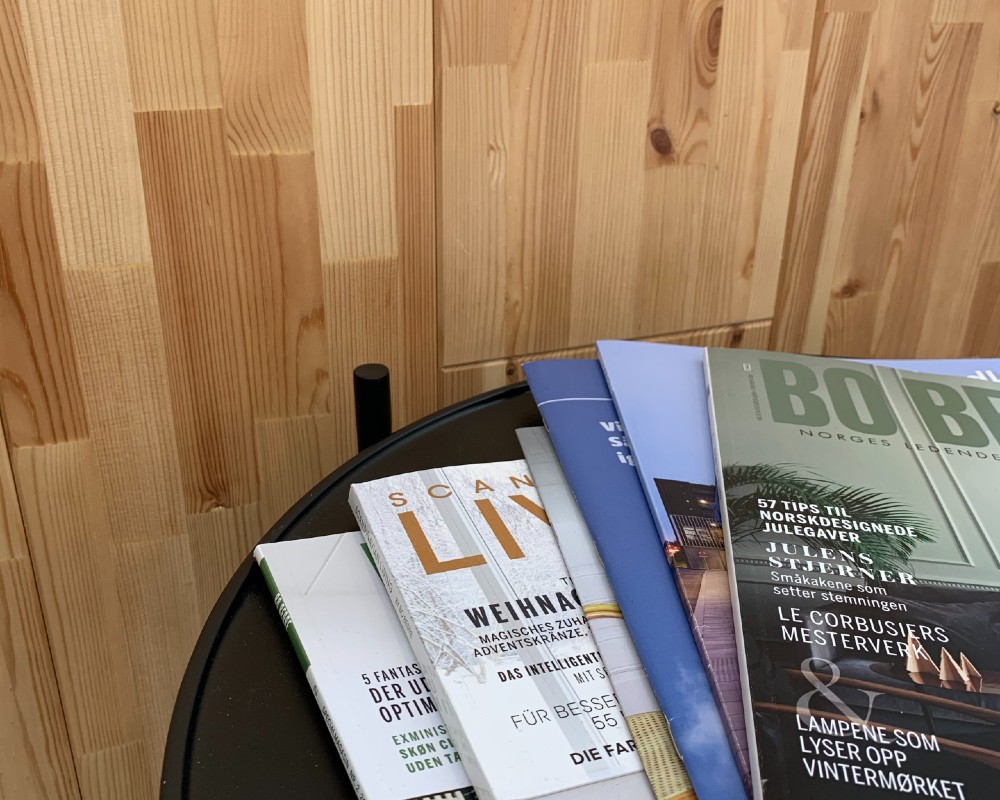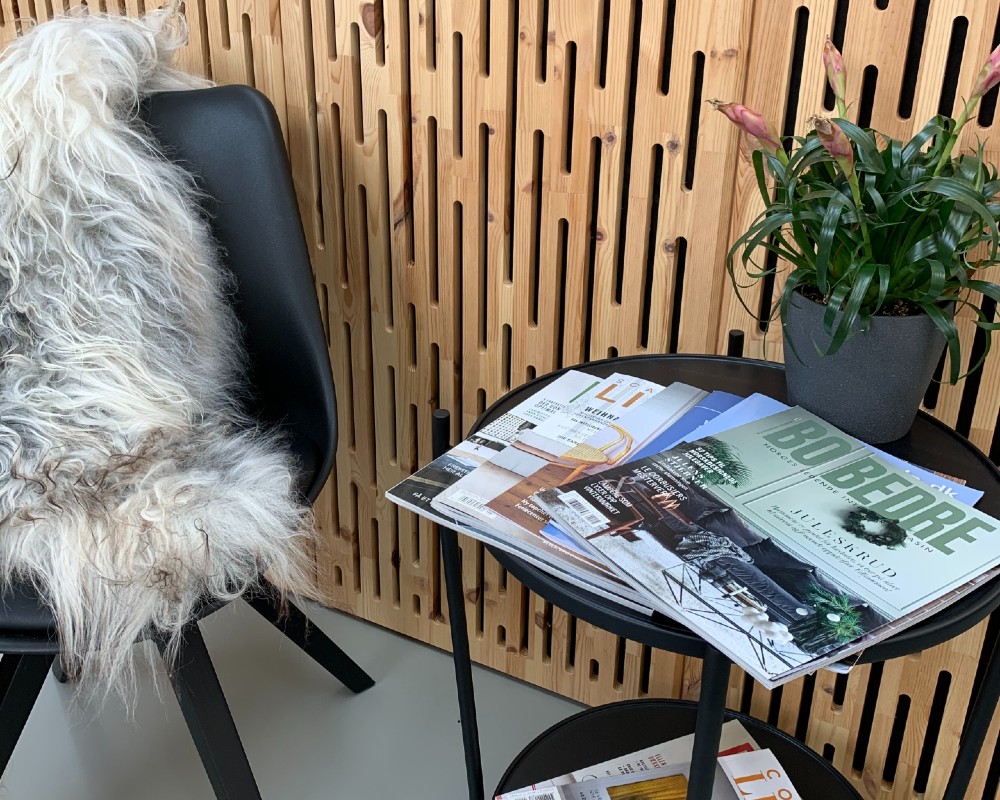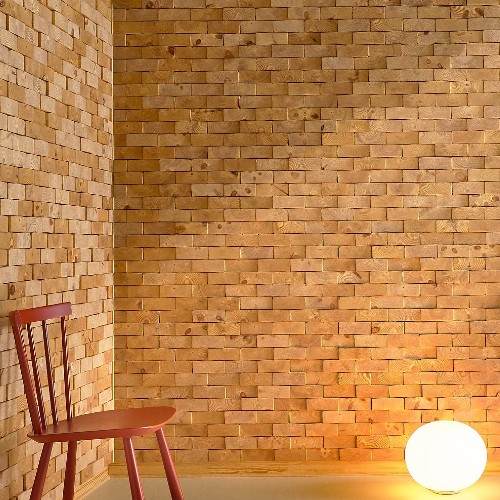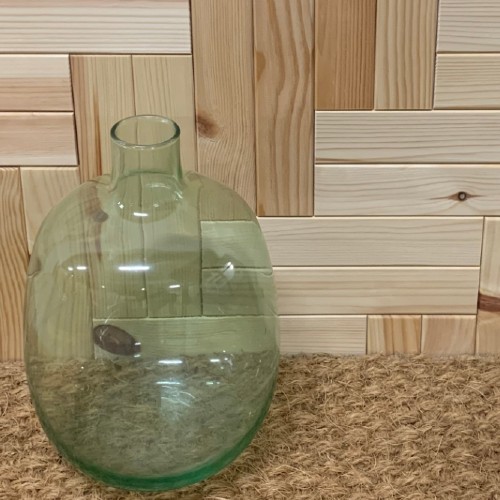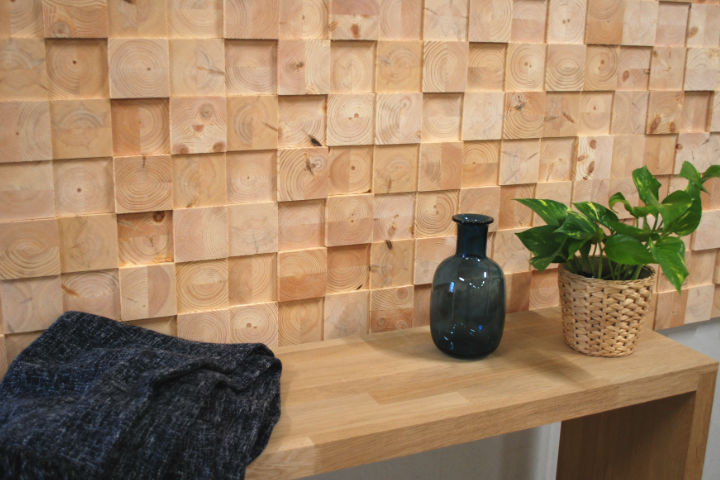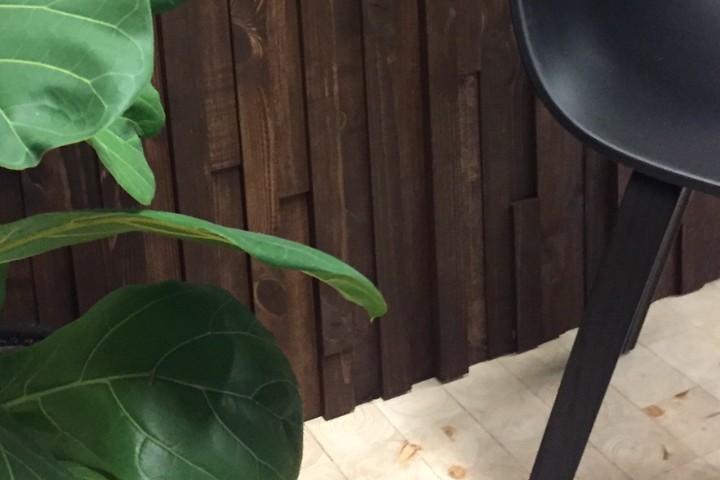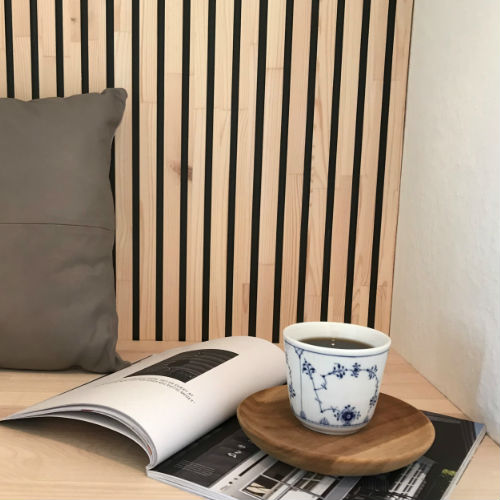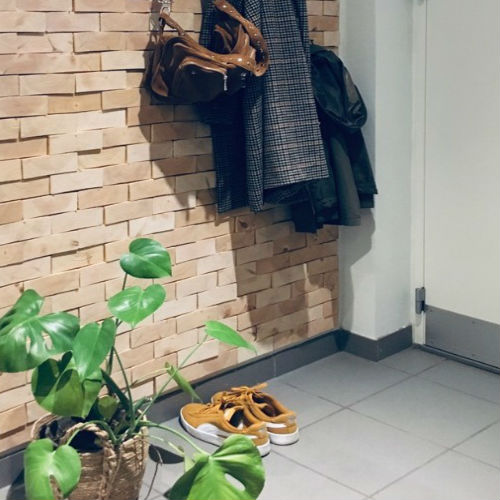 Contact NORTO
Nr. Bjertvej 17
7830 Vinderup
Phone: +45 9610 1522
E-mail: mail@norto.dk
VAT: 40123164