Sustainable NORTO materials for Arkitektskolen Aarhus (Aarhus School of Architecture)
As Denmark's first newly built school of architecture, the vision with Arkitektskolen Aarhus was to create an architecture laboratory with a focus on robustness and simple, good materials. And here, upcycling and recycled materials were high on the wish list – wishes that NORTO fulfilled with the supply of brick floors and desks in upcycled wood.
A building project with a special architectural and sustainable vision
The building is built under the name "NEW AARCH", which is to strengthen the school's vision, profile and relationship to the surrounding community. Sustainability, upcycling and recycled materials have also been a focal point from the start of construction.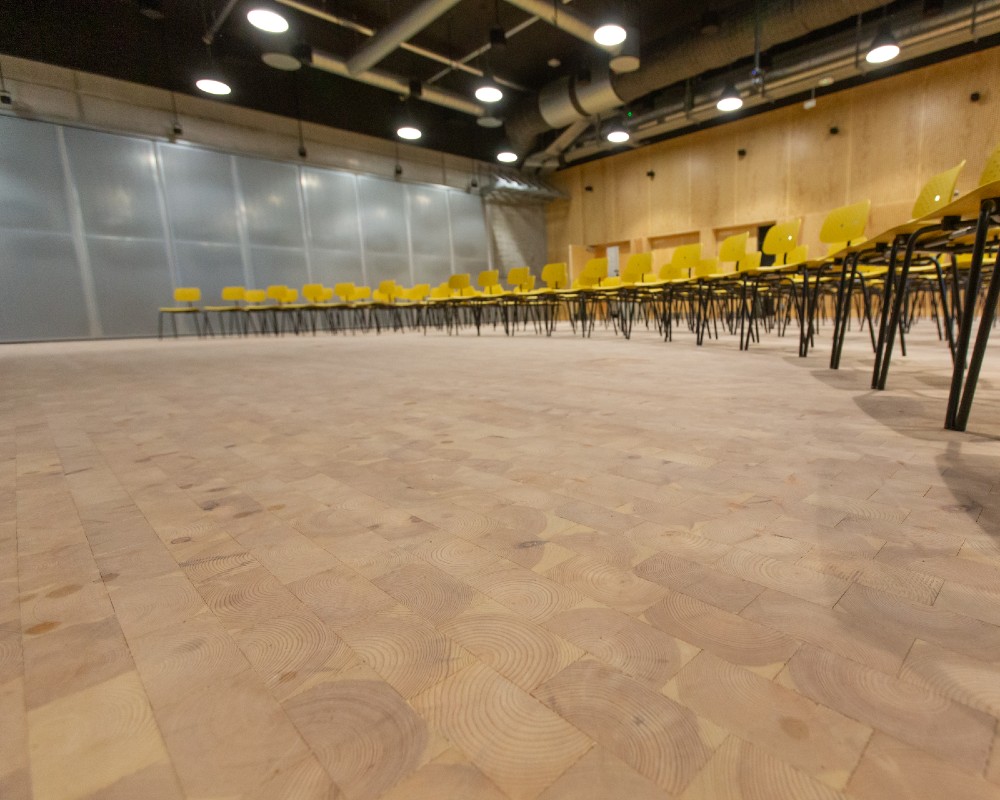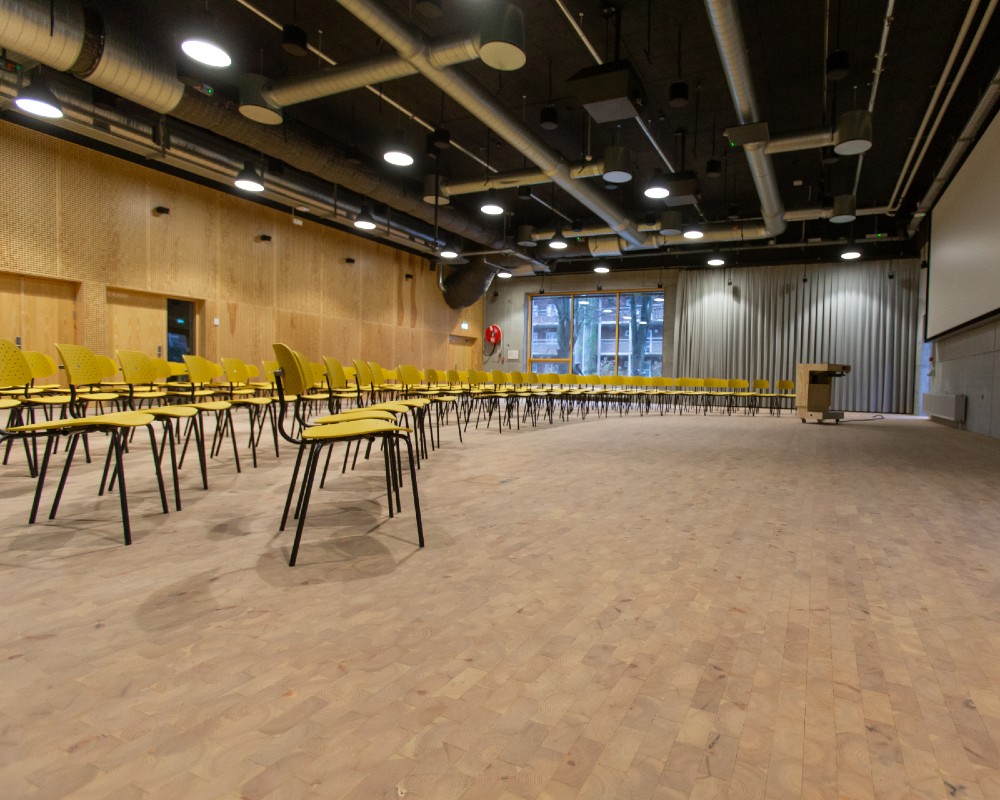 In addition, the Arkitektskolen Aarhus had wishes for the functionality and aesthetics of the floor:
"There was a desire to have a core wood floor – a solid and durable floor in high quality. We ended up with NORTO's sustainable and durable solution, where the floor can withstand being used both in the auditorium and in workshops where there are large machines on top of it. The brick floors are nice to walk on, while at the same time adding a warmth to the rooms as a contrast to the raw concrete. And then it is enormously robust and patinas beautifully"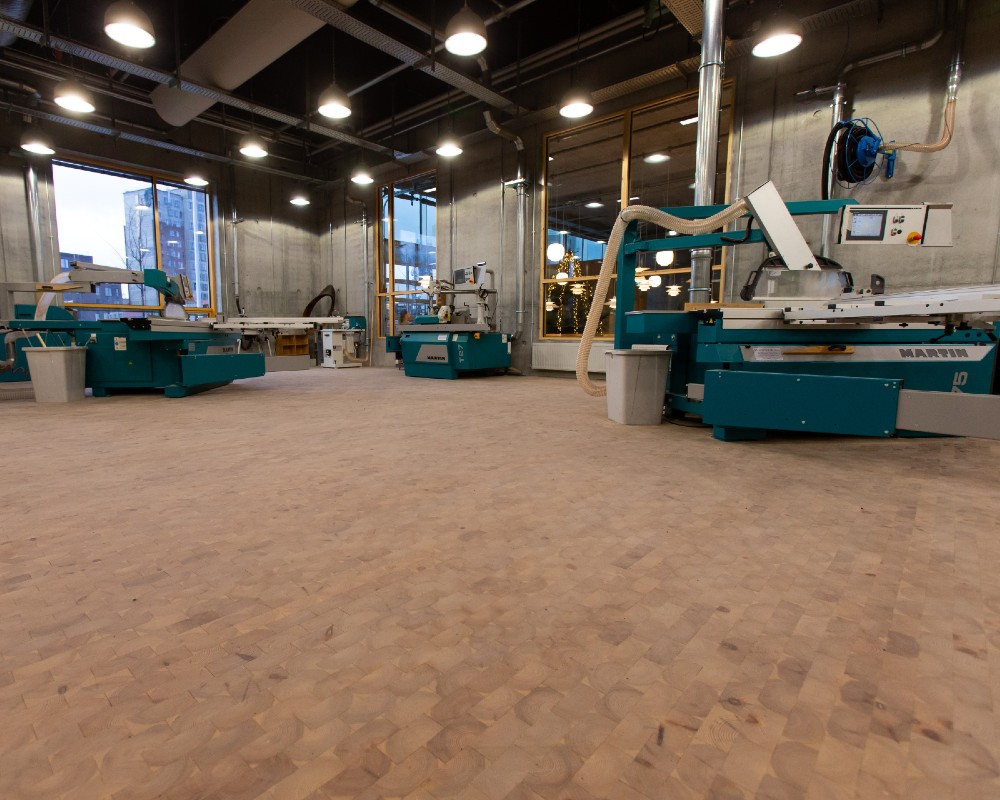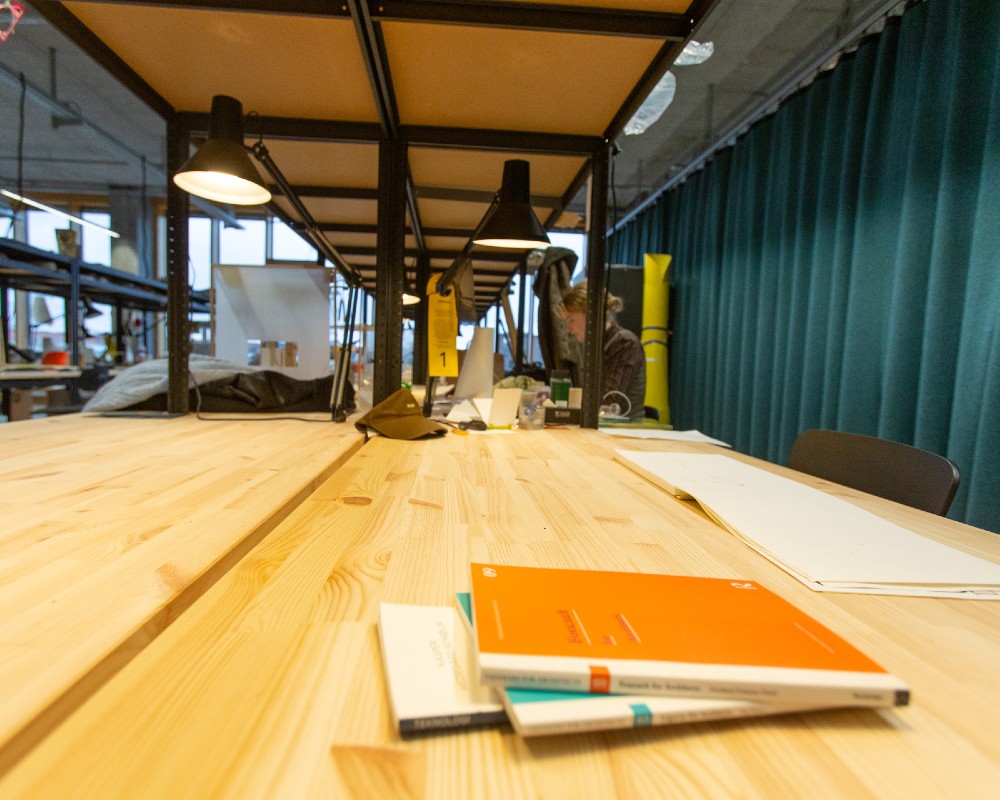 "I think the floors give a good look, and cool that you can follow the rings in the wood. It gives something nice to the eye. The tables are good to sit and work at "
"Desks are more solid and bigger than before. It's a good working station, we've got. The floors are beautiful, and it works well that some wood enters the building, when there is a lot of concrete. These are some warm materials. There is a good interplay between new and old furniture"
Upcycled materials must ensure quality in construction
This focus on sustainability and recycling led Bygningsstyrelsen (the Danish Building Authority) to allocate funds for a study of how upcycled materials can create added value and quality in a building such as Arkitektskolen Aarhus. Here, they chose to collaborate with A:GAIN, which designs, develops and sells upcycled products for construction, to help implement upcycled materials and solutions. One criterion for the choice of materials for the school was that they should be price neutral in relation to other non-upcycled materials that could be used.
Arkitektskolen Aarhus was recommended to have brick floors laid as part of the study of upcycled materials. And here it was especially important for the construction's main contractor, A. Enggaard, that the upcycled materials should be included as a natural part of the construction and the flow, so that the schedule and work process were not delayed or affected. A:GAIN, in collaboration with NORTO, developed a brick floor, which was later chosen.
"We chose NORTO's end wood blocks for the floors, because it was core wood in a high quality. The wooden blocks fit well into the construction, as they have studs and are finger-jointed. In this way, they appear raw, so you can see the material, and the raw expression fits extremely well with the rest of the building's expression"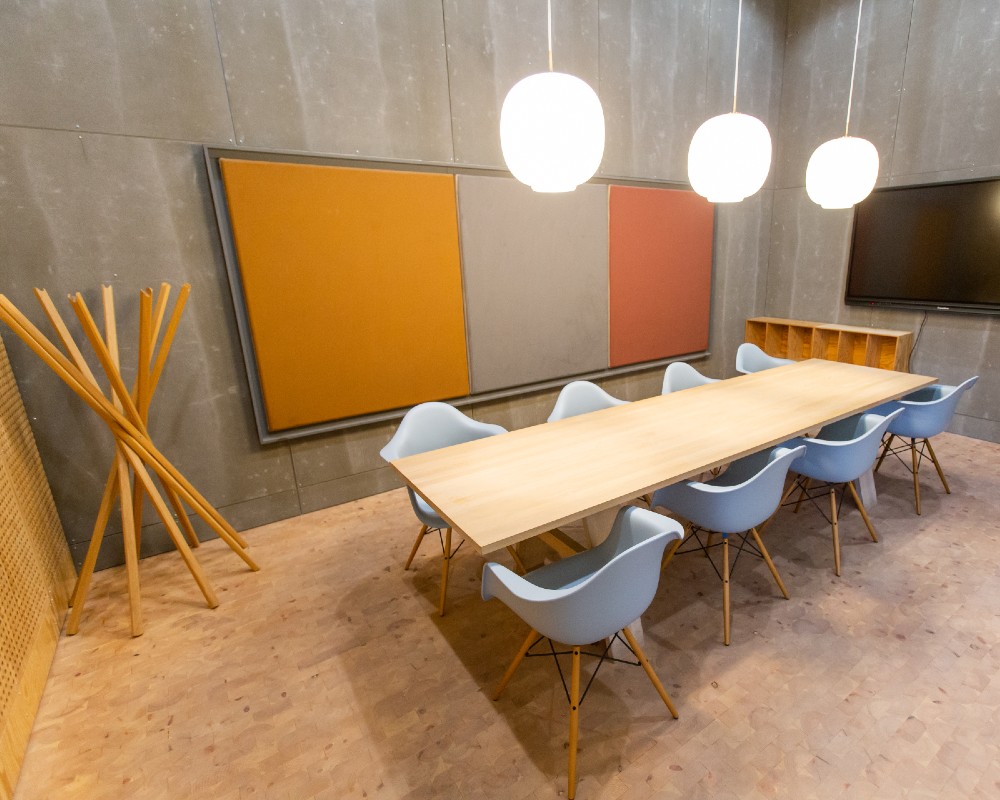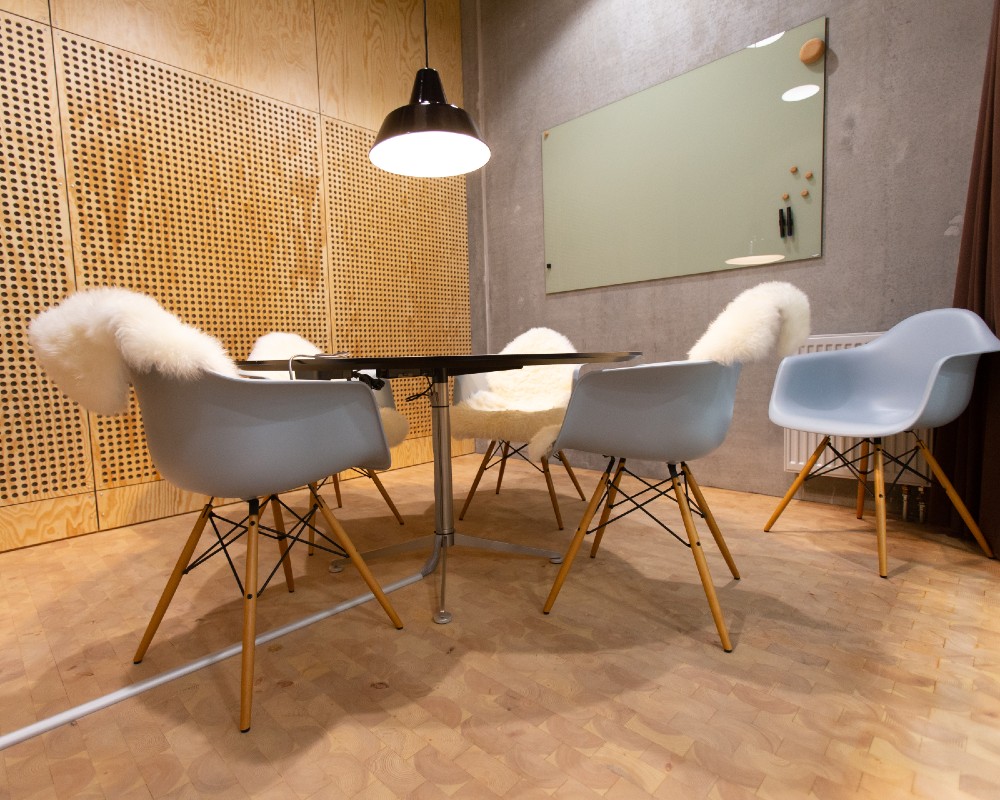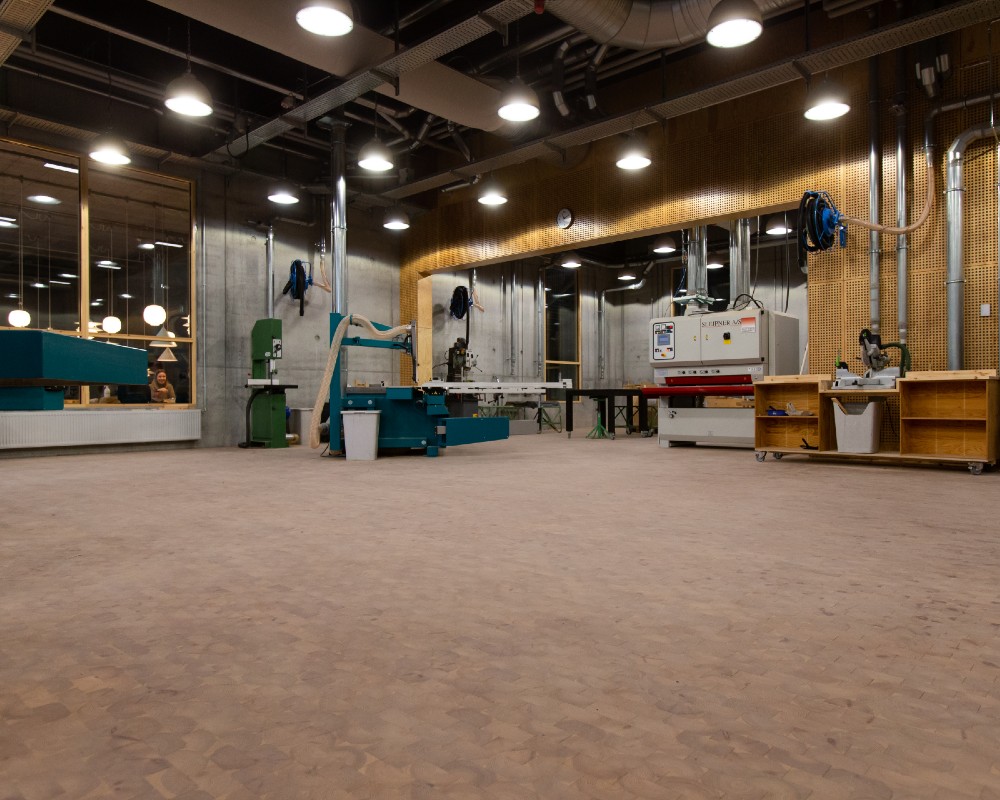 Workstations with upcycled desks in scrap wood
The school also researched the market for upcycled furniture and furniture solutions for everyday use. Since the school started in 1965, all students have had their own drawing board – tables that previously only consisted of two bucks and a plate. In connection with the construction of the new school of architecture, there was a desire to make a drawing board, that could function as a piece of furniture with integrated space for storing the students' materials.
Here, too, NORTO was able to deliver. NORTO manufactured 650 desk tops from upcycled waste wood in pine from the production of glulam boards for the furniture industry. Residual wood, which alternatively should have been burned or discarded. Instead, the residual tree now creates joy and value for the students at Arkitektskolen Aarhus.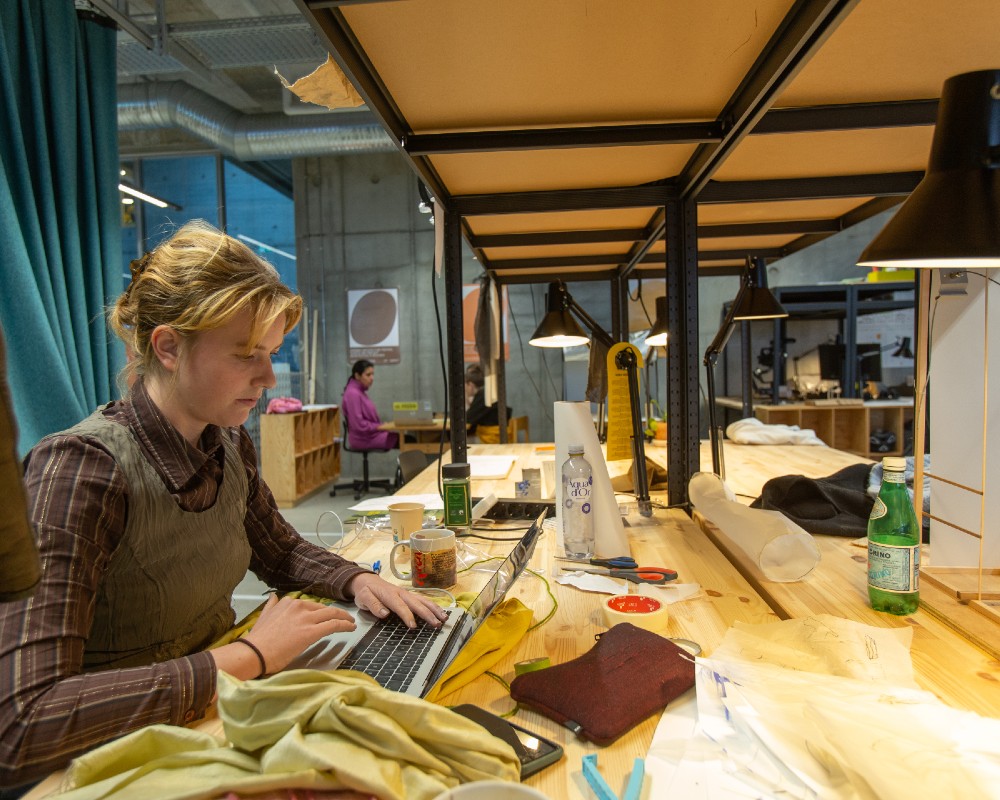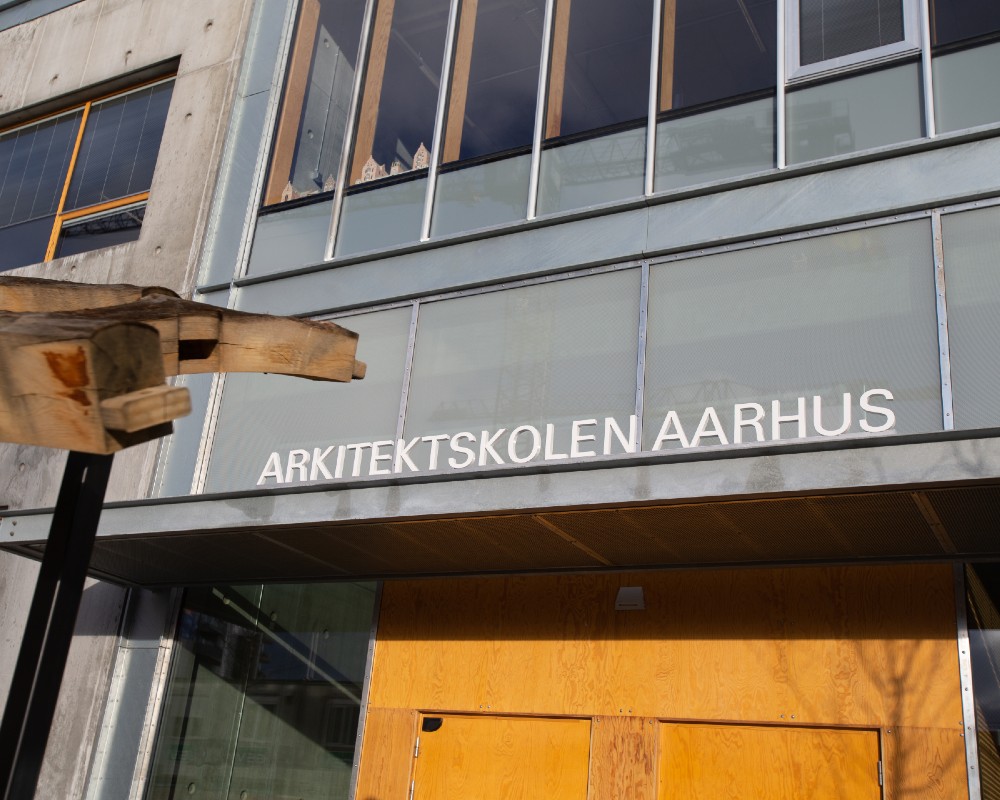 About Arkitektskolen Aarhus
Arkitektskolen Aarhus has been housed in the charming and listed buildings in the old grocery store at Nørreport in Aarhus since 1965. Now the school has moved to Godsbanen in the new creative district, "Aarhus K".
Arkitektskolen Aarhus consists of teaching, office and workshop facilities for 600 students and 100 employees. The construction is approx. 12,500 m2 and has been taken into use from the summer of 2021.
NORTO would like to thank Arkitektskolen Aahus for this collaboration.
Read more about Arkitektskolen Aarhus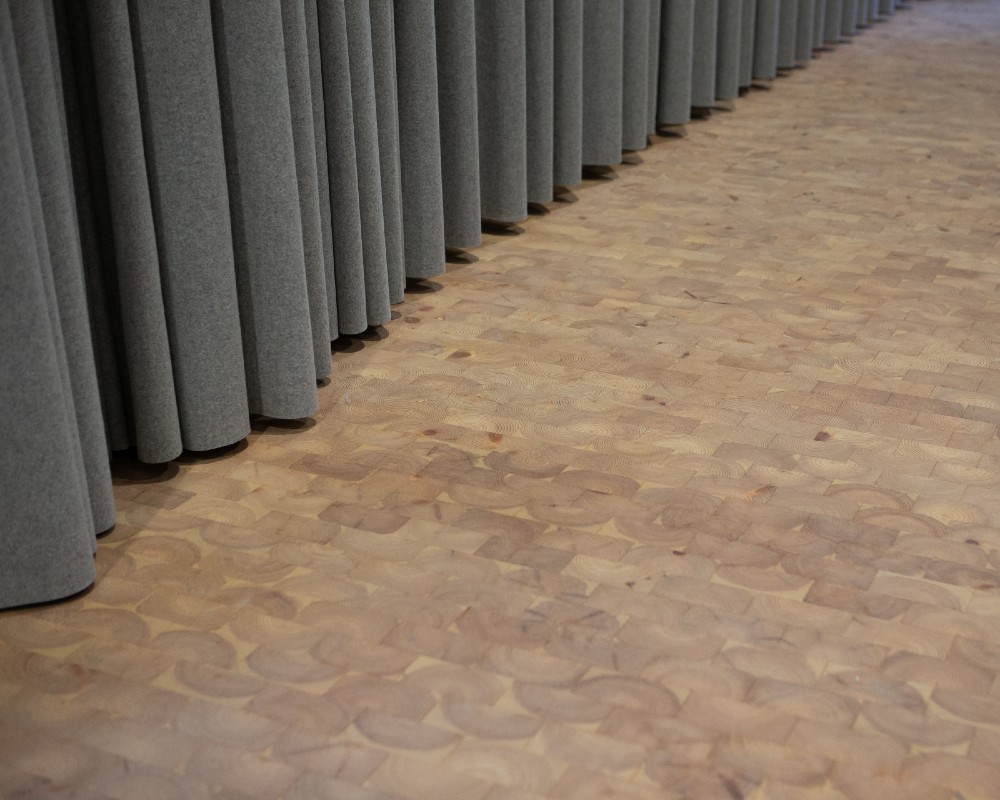 Facts about the project "NEW AARCH"
NORTO has delivered approx. 330,000 upcycled and solid end wood blocks in pine for Arkitektskolen Aarhus. The wooden blocks are residual wood from the production of window profiles. High demands on the wood in the window industry mean, that not all wood from a tree trunk can be utilized optimally for windows. This means, that the wood had alternatively ended up in the waste container to be thrown out or burned. The residual wood does not fail, and therefore it has now been developed and transformed into wooden blocks into an exclusive brick floor – much to the delight of students, teachers and visitors to Arkitektskolen Aarhus.
The wooden blocks are laid individually as block floors in i.a. the workshops, auditorium, bookstore, meeting rooms and in several of the school's corridors. The end wood blocks create a strong and robust floor with a long service life – and thus ensure an architectural school with a high-quality floor for many years to come.